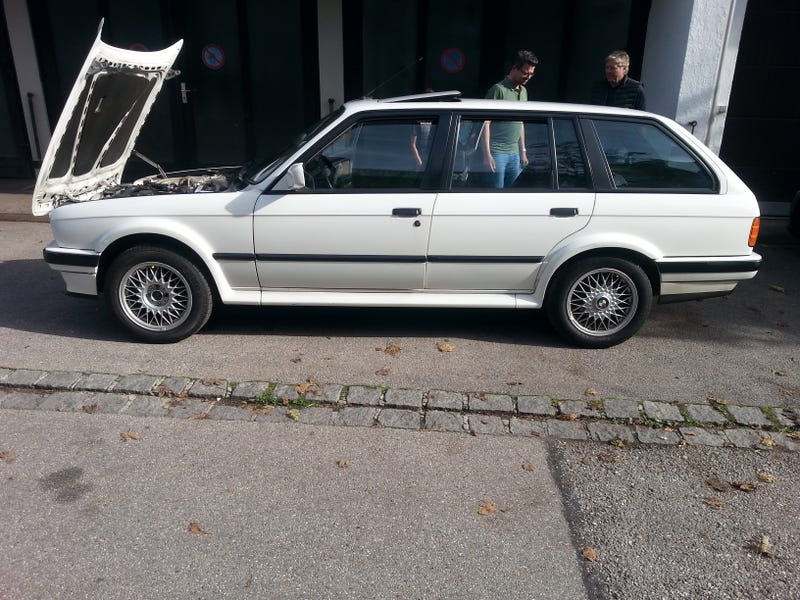 In short: not exactly what we expected. Let's start with the good! The stors checks out. The seller's mother in law drove in until three years ago when she started having senior moments behind the wheel and all these scratches appeared. They disconnected the battery to stop her from driving. "Oh your car won't start? Too bad! Let me drive you."
In the picture you can see the seller (grey hairs) and another potential buyer (glasses) who came from Austria. (Dude works for BMW, came with a 2-series Active Tourer "Werkstestwagen")
All the maintenance records etc. are there. It's on it's third timing belt. Last time done in '08 at 100K kms.
Last oil change was in '12 about 1000 kms ago. Still a healthy colour. Not water in oil or oil in water.
Seller claims that he drives it from time to time to prevent damages from just sitting around. (The blanket I used to get under it.)
TÜV expired in '12. Needs an ABS sensor (600 € new from BMW, 150€ used he says). We also found out that the headlight adjustment on the driver's side doesn't work. Other side works fine.
Seats are perfect except this little sign of wear on the driver's seat. All nice and well BUT!!!!
Jack points!
Exhaust is still pretty "original". Seems ok-ish for now, but will have to be done soon.
Engine and gearbox are "sweating". Not dripping, but certainly a little wet.
Brake lines are past their prime too.
The worst part is this area. This is a cut and weld job.
"Good from far but far from good."
CV boots are fine.
Talking of boots. Spare wheel well looks perfect, no signs of accident damage.
Original jack and tools. Moisture in the pocket, maybe from washer fluid tank?
Lot's of moisture! Seller had some wet rags in there to get it out.
The other side is fine.
Rear hatch is starting to get cancer as well.
Tiny rust spots and/or scratches on pretty much every panel.
Front bumper has been pulled out on the left side.
Tiny rust spots below the tail lights.
Tiny rust spots in pretty much all the door sills.
Weird panel gap!
O.K. it came off at some point. It's also one of the few panels that are spotless.
Sagging headliner over luggage compartment.
The area around the fuell filler cap looks o.k.
End of part 1.